Description
NEW-LOWER PRICING AS OF MAY 2022!!
ORIGINAL VIVAZEN IS NOW BACK !!!!
FOLLOW US ON TWITTER (@LEGALHERBALSHOP) FOR ANNOUNCEMENTS OF PRODUCTS (NEW, IN STOCK), SALES, COUPON CODES & INFO ON THIS INDUSTRY!
This is it! VivaZen with KRATOM is BACK!
The KING of all Kratom Shots is BACK! 
Please be AWARE there are counterfeits going around: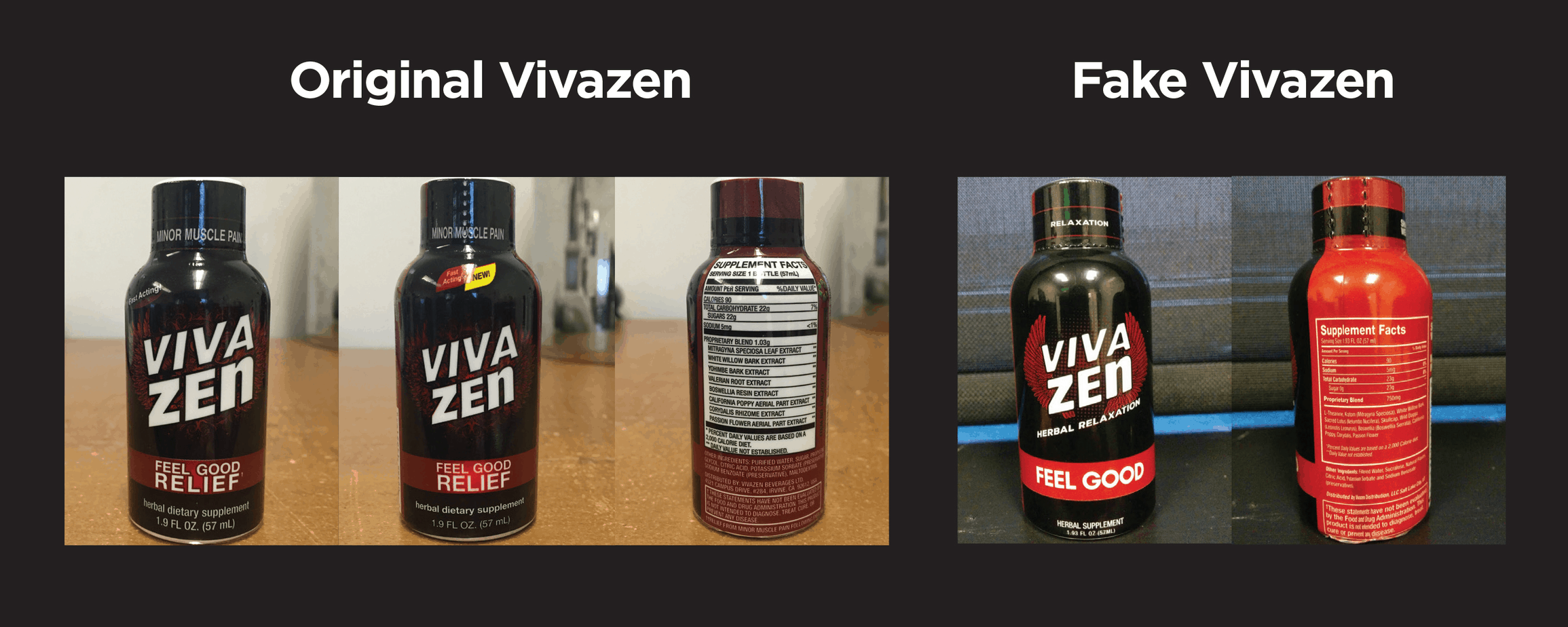 Purchaser agrees to this disclaimer:
Kratom has not been evaluated by the FDA. We make no claims that kratom cures, prevents, or treats any disease or ailment. All information on the website is for educational purposes only. Keep this product out of the reach of children. Kratom is not a dietary supplement, but a precise amount of an ingredient sold as a raw materials and/or bulk herbs. All information provided has not been evaluated by the FDA and all kratom products on this site are sold for horticultural, educational, and scientific use. This product is for use and handling only by those with the knowledge and equipment to safely handle this ingredient. You agree to release us for any adverse effects that may arise from improper handling and/or consumption of this product. By submitting your order and payment you certify that you are at least 18 years of age and that you agree with this disclaimer.
Additional disclaimers:
Buyer understands that all information on this site is for educational purposes only.  We do not suggest, or imply, or want you do ingest the kratom we sell. Kratom is not FDA-approved for human consumption so it cannot and is not sold as a food item.
The buyer understands and accepts that www.legalherbalshop.com products are sold "NOT FOR HUMAN CONSUMPTION" and are sold as herbarium specimen, collection, legitimate research, plant propagation, incense, educational and/or ornamental purposes only. Capsules are used solely for the purpose of weighing and speed of packaging and novelty items, not consumption.
DO NOT use legalherbalshop.com information to diagnose, treat or cure any illness or health condition. legalherbalshop.com its owner(s) and or employees cannot be held responsible for, and will not be liable for the inaccuracy or application of any information whatsoever herein provided. None of our statements have been evaluated by the FDA.
legalherbalshop.com accepts no responsibility for the misuse of supplied products. The Buyer accepts full responsibility/liability for any said punitive damages including but not exhaustive, personal injury, lost profit/revenues, loss of product/equipment including any loss of property that may result from the purchase or use of any legalherbalshop.com products.
Buyer understands that it is the buyers responsibility to abide by local laws and regulations. The buyer agrees to abide by all local, state/province and government regulations in accordance with the use of any products provided by seller. The buyer agrees that it is entirely the buyers responsibility to make certain that the products ordered are allowed in the buyers country of residence andlegalherbalshop.com will not be held liable.
All information is supplied for educational purposes only.
The customer states he/she is aged 18 or over.
By placing an order, the buyer agrees to the terms and conditions stated, and automatically accepts all responsibilities.
Legal Herbal Shop reserves the right to
cancel any order for any reason.
At this time, we do not ship to the following U.S. States & Cities:
Alabama; Arkansas; Indiana; Tennessee; Vermont; Wisconsin; San Diego, CA; Jerseyville, IL; and Sarasota County, FL.
BY PLACING AN ORDER YOU ARE AGREEING TO THIS DISCLAIMER.
Info on Kratom: Kratom's pharmacology is primarily mediated by the alkaloids 7-hydroxymitragynine and mitragynine. While these molecules share structural similarities to the psychedelics, there is no psychedelic activity or similarities in effects to such substances. Instead these alkaloids primarily interact with the adrenergic and opioid receptors. Accordingly, kratom is known to prevent or delay withdrawal symptoms in an opiate dependent individual, and it is often used to mitigate cravings thereafter. It can also be used for other medicinal purposes. Kratom has been traditionally chewed or brewed into a tea, for its effects, in regions such as Malaysia, Thailand, and Indonesia, but was officially introduced to the Western world by ethnobotanists during the 19th century. Besides Kratom, in Southeast Asia and the Pacific Islands it also goes by the names krathom, ithang, biak biak, ketum, kakuam, and in southern regions, thom. In these areas kratom has a history of use by laborers and in folk medicine for opium dependence and diarrhea. Of the two main active constituents, mitragynine has been studied more thoroughly than 7-hydroxymitragynine. At lower doses, mitragynine exhibits a yohimbine-like binding to alpha-adrenergic receptors, as well as some binding to the delta opioid receptors. As doses increase, binding to delta receptors increases, and in yet higher doses, crossover to mu Opioid receptors occurs. 7-Hydroxymitragynine was only recently understood to be the main active ingredient. Limited animal research suggests it is a potent opiate agonist, but with a ceiling effect that limits the potential for respiratory depression and euphoria. No fatal overdose of kratom is known to have occurred. One study of Thai users reported that kratom has subtle calming effects in low doses, changing over to mild stimulation in higher doses. Other anecdotal sources say that it may be a mild, caffeine-like stimulant in lower doses, but decreases the effect in higher doses, which is consistent with mitragynine's receptor binding profile. However, recent publications indicate that different alkaloids may be at work to achieve mild stimulation versus sedation: whereas higher concentrations of mitragynine are attributed to act as a sedative, 7-hydroxymitragynine appears to be a significant alkaloid for reducing stress associated with opioid craving. Effects come on within five to ten minutes after use, and last for several hours, depending on individual physiology. The feeling has been described as subtly active, while the mind is described as calm.